Site Directory
About The Author
Meet the author of Education Through Creation Series, Jim Marks

Testimonials
Read what
others have to say about the Education Through
Creation
Series!

Order Now!
Order Securely Online or Print order form

Visit other places of common interest
.


P.O. 1044.
Tracy, MN 56175
Phone: 507-212.1234
FAX: 507-212-1235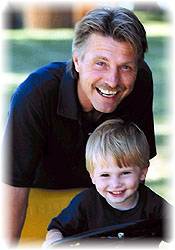 Meet James L. Marks
Jim Marks is a Minnesota native and resides in Walnut Grove, MN, home of authors Laura Ingalls Wilder (Little House On The Prairie) and Lois Bartholomew (White Dove). The seventh born son from a family of eight boys and two girls, Jim has combined his personal life experiences along with his studies and the birth of his now three year old son to create a series of beautifully illustrated, brilliantly laid out Character Building books.
Jim has spent the past ten years of his life studying human potential and has used his teachings to develop an easy to understand, common sense approach to life in his "Education Through Creation" series of eight books. This Character Building book series is designed to build a positive self-image using a fun and simple, thought-provoking format.
Jim is the founder Seventh Sun Productions. He has studied with and attended classes conducted by Stephen R. Covey, The Seven Habits of Highly Effective People; Mr. Bob Proctor, author of international best seller, You Were Born Rich, who is also an educator, business consultant, convention speaker and highly successful entrepreneur and Dr. Lee Pulos, President of Clinical Psychology, Canada.
Also, Mr. Kevin Brovold, personal mentor who is also the creator of the "Achieve Your Dreams" goal program, author, public speaker, entrepreneur, consultant, certified Robbins Research NLP Trainer and license certified hypnotherapist.
James L. Marks is a member of the Society of Children's Book Writers and Illustrators out of Los Angeles, Ca.
Top of Page
.
Contact Us
Contact Info
Our Postal Mailing Address and Toll Free Number!
ETC Series: